The Ultimate Guide to Buying a Bed and Breakfast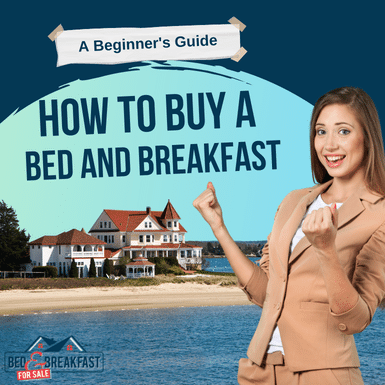 The trend of owning your own accommodation business has been steadily growing beyond the simple Airbnb units. Potential innkeepers dream of expanding on the traditional Airbnb business model with everything from unique experiences, out-of-reach destinations, and outstanding cuisine. They see a market niche that has yet to be fully capitalized on.
So, what exactly is a bed and breakfast, and what makes it different from Airbnb, or a hotel or motel? A B&B is a regulated, small inn that usually personalizes a guest's stay with a unique or create atmosphere, along with, of course, breakfast. The innkeeper usually lives on site or nearby and personally serves guests. Alternatively, Airbnbs are typically lightly regulated short-term residential property rentals, while hotels and motels are larger commercial hospitality businesses.
Like many businesses, owning an inn is about more than décor, food, or location. Whether you're purchasing an already existing business or looking to establish an inn from an existing building, getting into the bed and breakfast industry requires a significant amount of planning, research, and forethought. While you want to love running your new business, you also need it to be profitable.
No matter what stage of the purchasing process you're in, this will be your ultimate guide to buying a bed and breakfast.
So, what exactly is a bed and breakfast, and what makes it different from a hotel or motel?
The idea behind a bed and breakfast, commonly called a B&B, is to offer guests a personal and unique experience. These boutique businesses typically run out of properties that deliver a sense of charm or novelty. A great B&B will individualize their service and be far more personal than a hotel or even motel. Guests expect to have excellent customer service, local recommendations, and of course, a memorable morning meal.
A B&B should be more than just lodging but part of the vacation experience. Many B&Bs will include additional activities at their properties like watersports, lawn activities, games, and more.
It's not uncommon to see popular B&Bs using spaces like retired firehouses, log cabins, yurts, old mansions, houseboats, castles, ranches, or even just a large, converted home. Guests want to venture beyond the familiarity of hotels and seek lodgings with welcoming hospitality and perhaps some daring style.
This doesn't necessarily mean that all B&Bs must have a theme or excessive décor, but a unique offering will typically draw more clientele. However, most who consider a B&B for their holiday stay will pay a premium for a unique offering. Ultimately, it comes down to the atmosphere of the business and the connection that the innkeepers make with patrons. Visitors want to feel at home
Is the B&B lifestyle for you?
Before you start looking for properties or businesses to buy, you want to really assess if you're ready to take on the B&B lifestyle and if it's a great lifestyle for you. Like any small business, you will face with personal and financial challenges. To help you, we have put together some valuable questions you should honestly answer to assess if becoming a B&B innkeeper is the right move for you.
How comfortable are you with financial risk or a new business?
Are you prepared mentally and financially to be self-employed?
Do you have the time, capacity, and commitment to take on the running of a B&B full-time?
Do you enjoy customer service and working with people every day?
Do you enjoy meeting new people and personalities regularly?
How good are your culinary skills? If cooking isn't your gig, are you prepared to hire help?
Do you have strong time-management skills?
When under pressure, how capable of problem-solving are you?
Do you enjoy basic tasks such as cleaning and cooking?
If you answered positively to most, if not all these questions, then becoming a B&B innkeeper may just be the perfect business move for you! Remember, being an innkeeper isn't all glamor. This lifestyle is a heavy time and financial commitment, so be sure before you take the leap!
Starting your property search
If you're just starting your searching journey, you should know that you have two main options: purchase a property and establish a B&B or buy an existing business and make it your own. Realistically, purchasing an established business can save you time, effort, money, and stress. You'll not just be buying the property but the existing patron goodwill.
With either option, ensure that the property's location is close to tourist attractions such as beaches, cities, skiing, lakes, etc. Even if you want to establish a rustic retreat, make sure that there are nearby activities for guests to partake in.
Rely on a real estate agent
You can get in touch with real estate professionals at Bed & Breakfast For Sale, who specialize in buying and selling existing B&Bs or properties that will be ideal for a new B&B. An experienced agent understands the industry and will be able to provide advice while sourcing the best property to fulfill your B&B dreams.
Financing
There are a few financing options for buying a B&B. However, what it comes down to are your financial circumstances and the type of purchase. If you're starting a new B&B, you'll need an SBA loan, which the Small Business Administration guarantees. If you're purchasing an existing B&B, some conventional lenders offer financing.
As you review B&B locations, work closely with a real estate finance expert who can help advise you of your options with each property.
There are alternative purchasing methods if you don't have the necessary capital to buy a B&B in a conventional manner. For example, many B&B owners are looking to retire and would consider an owner-financed deal. You can pitch your business case and work ethic to them in the hopes that your passion will shine through, and the current owners will be happy to proceed with owner-financing until you're able to fully take on the business
The important questions to ask when buying a B&B
If you're narrowing down your search, here are some helpful questions to ask before submitting an offer and when speaking with the current owner.
Is it in a good location? What nearby attractions are there?
How many guests can it host?
Is there room for expansion?
Does the property have unique or novelty features?
What are the existing reviews for the business?
What are the current rates?
How many days a year is the business open? Can you keep or expand upon that schedule?
Will there be easily foreseeable slow periods? This is an essential question for seasonal locations.
Are there any restrictions on the property, such as zoning or encumbrances?
Why is the owner choosing to sell?
Does the owner do most of the operation or have they hired staff?
Getting into the B&B industry is exciting, but it can take time, money, and patience to find the right asset. An excellent resource to start viewing and finding properties, or to connect with B&B brokers is bedandbreakfastforsale.com.