7 Key Steps to Selling Your Bed and Breakfast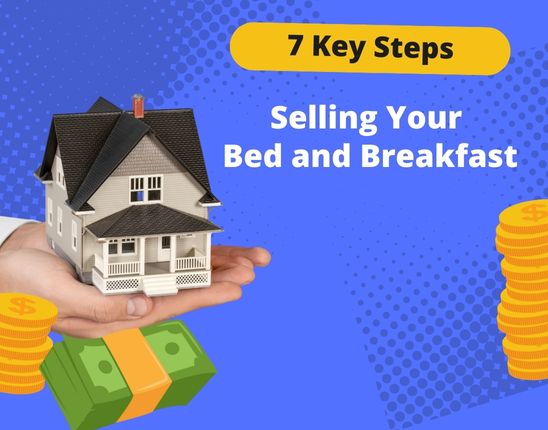 So, you've been an innkeeper and are ready to sell your bed and breakfast, and move on to the next adventure. Saying goodbye to a business venture and closing the door on a dream can be a hard decision to come to, so congratulations!
You've come to the right place. Bedandbreakfastforsale.com lists B&Bs all over the country and is an excellent resource to connect with real estate brokers who specialize in the B&B industry.
When you're selling a B&B, most often, you're selling more than just a property but also a business. So before you start bringing potential buyers through your property, you want to make sure that both the property and your business documentation are prepared to show your asset in its best light.
As you prepare your B&B for sale, it's essential that you exercise just as much care as you did when you bought and nurtured it. You want to make sure that you find the right buyer who will pay the maximum price. Care, diligence, and an excellent real estate professional can help you find the perfect buyer.
To help you prepare your business for sale, we have compiled a list of the seven key steps to selling your bed and breakfast.

1. Prepare your financials.
This process will be easy if you have been diligent with your bookkeeping and accounting throughout the years. However, if you have some bookkeeping administration required, now is the time to get motivated and get it completed. Any potential buyer will want to review your business financials to assess its value. Be prepared to hand over taxes, booking information, utilities, payroll, etc.

2. Order an inspection.
One of the biggest concerns for real estate buyers, let alone B&B buyers, is that there is a significant amount of costly delayed maintenance. Get one step ahead of buyers by having an inspection conducted before listing. If any significant issues arise on the inspection, be prepared to either remedy them or adjust your price accordingly.
Remember, if a buyer finds out about major repair requirements later in the purchase process, they will likely require a price adjustment, or it may scare them away from the purchase altogether, putting you back at the starting point.

3. Learn about your market.
Before you dive into selling your business and property, start researching your market and possible competition. This will help you better understand what your asset may be worth in the current market conditions and assess what you can do to make your B&B present better than the competition.

4. Decide what you're going to sell and what you want to keep.
When selling a business, it's usually assumed that most of the personal and fixed property on the building are included in the sale. Therefore, this is called an all-inclusive sale.
If you want to keep furniture or other personal property, consider removing them from the property before listing it for sale. This will remove the possibility of any buyer confusion.

5. Decide on a listing price.
Before forming a fixed price in your mind, consult with a broker who specializes in selling B&Bs. If you just arbitrarily come up with a price, you could easily end up over or underpriced. Both circumstances will not work in your favor.
Selling a business in combination with real estate can be complicated. A broker will help you understand your business's valuation along with the value of your property. They will review your financials and consider revenue, patronage, and comparable sales to determine the value of your property and its assets. To fully benefit from a business sale, the financials must prove that the business will continue generating revenue for a future buyer.

6. Focus on customer service.
Ideally, you want to start raking in positive reviews from customers. These will become proof of goodwill. How can you increase the exposure of the business? Consider hosting events, improving interior decoration, or turning to social media channels.
Buyers want to see strong financials, as well as perceived value, is less tangible elements. Think of strategies that can further improve patron experience, boost your bookings, and therefore increase your projected revenue.

7. Engage a broker.
Working with an experienced and qualified professional to help you sell your business is essential to a successful sale. A great B&B agent will understand both the real estate market and the B&B industry. If you are still looking for the right broker to work with, visit our agents section at bedandbreakfastforsale.com to find a list of B&B brokers in your state.
The decision to sell your business and property is a hard one to come to, but when you're ready, you want to ensure you get the best price. The process can be complicated, but following these key steps will help you be prepared to have the smoothest experience selling your B&B.