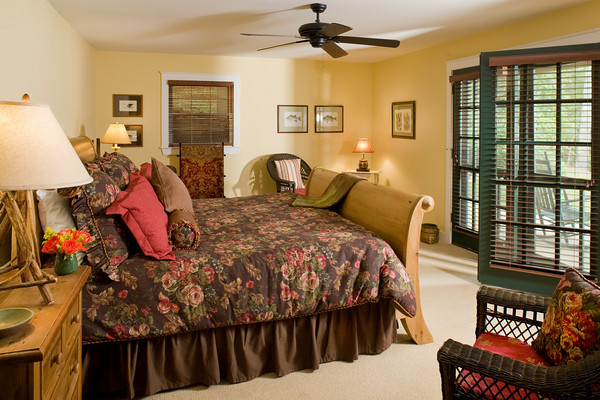 Ever wonder what the differences are between a Bed & Breakfast, Inn, Boutique Hotel, Hotel, and Airbnb? The following definitions attempt to differentiate between the various types of lodging options available to today's traveler. Keep in mind that in the current competitive lodging environment, the distinctions may not always hold true and that the different terms often reference a property's size, service, and staffing rather than municipal or formal legal definitions.
Bed and Breakfast: Small-scale properties, five-to-ten guest rooms, emphasizing a high degree of personal touches that provide guests with an "at home" feeling. Guest rooms tend to be individually decorated and may not include some amenities such as minibars or in-room safes found in traditional hotel rooms. Usually owner-operated, with a common room or parlor where guests and operators can interact during the evening and breakfast hours. A continental or full, hot breakfast is served and is included in the room rate. No on-site restaurant. Licensed for commercial use. Typically, but not always, owner-operator lives on-site. The average bed and breakfast has eight guest rooms and derives 90% or more of its revenue from lodging.
Boutique Hotel: A small hotel which typically has between 10 and 100 rooms in unique settings with upscale accommodations and individualized unique selling points. It may or not offer all of the services typically found in a traditional hotel. The primary difference between a hotel and a boutique hotel is that no two boutique hotels are alike. Unlike traditional hotels that are usually chains. Because boutique hotels are smaller than traditional hotels, the focus of the boutique hotel is more intimate and reflective of its location. Operated by a general manager and staff. Typically limited food and beverage; no on-site restaurant.
Hotel: A commercial establishment providing lodging, meals and other guest services for travelers. According to the American Lodging & Hotel Association's 2015 Trends Report, there were more than 53,000 hotel properties in the US. The average size was 92 rooms. Operated by a general manager and staff. Typically has on-site food outlets. Offers customary amenities including parking, room service, 24-hour front desk, in-room coffee maker, wake-up service, mini-bar, valet, meeting rooms, business center, etc.
Inn: Similar in definition to a bed and breakfast, inns are usually larger in scale, ten-to-twenty-five guest rooms, with spacious public areas and a dining facility that serves at least breakfast and dinner. Owner-operators are complemented by a small staff. Licensed for commercial use. Owner-operator may live on-site. The average inn derives 50% of its revenue from lodging and 50% from food & beverage and event sales.
Airbnb: A spare room or sometimes an entire apartment or home made available to guests for overnight stays. Typically, the dwelling is owner-occupied. Owner is not obligated to perform host duties. No, or limited, food service. Not zoned or licensed as a commercial facility. 100% of the revenue is derived from lodging. The peer-to-peer reservation service is known as Airbnb and has over 6,000,000 listings worldwide.
In sum, in today's competitive lodging environment, frequently there are no definitive differences and the terms are often interchangeable. The various lodging terms used in a property's name may reference a property's size, service or staffing and are frequently driven by attempts to brand a property and market it to a particular guest segment.